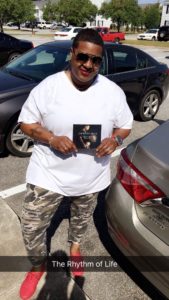 Life is full of rhythm. It's in the tap of our step, the blink of our eye, and the sway of our arms. It's in the swoosh of the blood running through our veins, and in the beat of our heart. We are born with a natural rhythm.
So, when we hear rhythm in our music, there's an instant connection. We can breathe it in the air, our ears capture it in the wind, our bodies glide to it and our spirits embrace it. Wrap your mind around music that dispenses hope and which uplifts the soul. Grab a hold of it as it swirls in the breeze, tap your feet to it as it vibrates through the streets, free your limbs to dance to its rhythmic beat. Whether you or young or old, this rhythm is for you!
Join the movement of fans, like Mo'Nique who have caught their rhythm of life by listening to Eugene Taylor, The DrumProphet, slap out his organic rhythm on the djembe drum. These fans have experienced Eugene live, and love the rich rhythm from the djembe drum mixed with the heart-warming and soulful vocals of Eugene Taylor. What fans love even more is that they can capture their experience with Eugene by purchasing "The Rhythm of Life" CD. Now they can experience their rhythm of life anywhere and at any time. You can capture this experience too by purchasing "The Rhythm of Life," CD which is available on iTunes, Google Play, Amazon, CDbaby.com, and DrumProphet.com.
Catch The Rhythm!