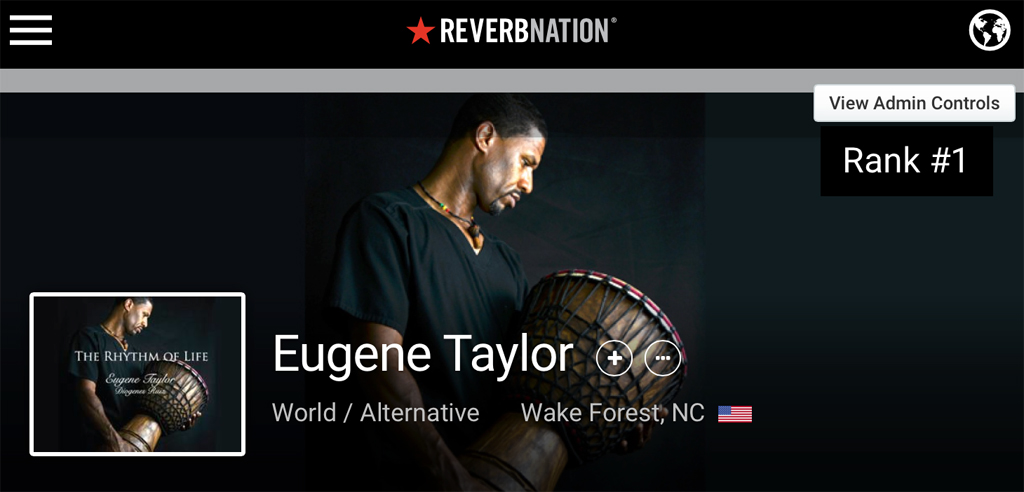 DrumProphet.com UPDATE by Diogenes Ruiz:
Eugene Taylor is the #1 world music artist on the Reverb Nation charts, for the Raleigh area. Also known as "the man whose happiness is contagious," Eugene's music soothes the soul and connects with us on a deeper level. Experience the Rhythm of Life today. Visit www.drumprophet.com and order your copy, then share the good news with a friend!
With your help, Eugene's music will be heard around the world and help change many lives. The words on the back of the CD cover read:
"The Rhythm of Life is a gift we share during our brief time on earth. It is the wonder without the despair. It is the thread that binds us as brothers and sisters. It is a beat we all crave and long to embrace without judgement or scorn or malice… only grace. Together we dance to each other's rhythms as day turns to night, we embrace new beginnings. It's the rhythm of love fully unleashed in the hearts of men, women, and beast. As we allow the rhythm to lift up our souls a glorious journey begins to unfold. Join me in the dance. Let your joy be strong. That's what the good Lord above had in mind all along."
There aren't many musical artists like Eugene Taylor. If you know him, you know what I mean. His gift is unique, as many patients at Rex have come to experience when he sings to them on their way in and out of surgery. His spirit, his music, all radiate from a center that is guided by a pure loving heart.
Now that Eugene Taylor's debut CD is officially out and available for purchase, help him take the next step in a musical journey that is sure to heal hearts and change lives. If you're a fan, it's time to rave. Rave to those you know and to those you've just met. In a world where hatred is a chronic affliction, it's time to rave about something positive!
As Eugene sings on one of the songs on the CD, it's time to:
"Make a joyous noise
Be free from pain and sorrow
Shout it without care
Today's your new tomorrow"